Posted on Oct 5, 2016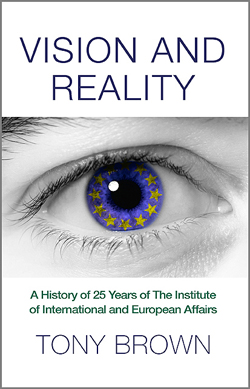 Brendan Halligan saluted a new book written by IIEA Senior Fellow Tony Brown yesterday at the Institute of International and European Affairs in Dublin. The launch of Vision and Reality – A History of 25 Years of the Institute of International and European Affairs was launched to coincide with the Annual General Meeting of the Institute, and was received with huge enthusiasm by Institute members and attendees at the event.
Halligan praised the book itself for its broad vision: that of capturing the history and development of the Institute in one comprehensive tome. Its seven chapters take us from the origins of the organisation through its actual founding, the nuts and bolts of its development and implementation, the progression of its concept of scholarship, dialogue and activism, the exploration of the many issues it has addressed, and its embracing of the new issues like Climate Change and the digital world.
He noted that "Vision and Reality" is commendable not only for its meticulous attention to detail, but its fine writing style, which allows the reader to enjoy and fully appreciate the depth and breadth of its subject. (more…)