Posted by
Editor
on May 24, 2016 in
Economics
,
Politics
,
Uncategorized
|
Comments Off on BREXIT – A Risky Business? Brendan Halligan Podcast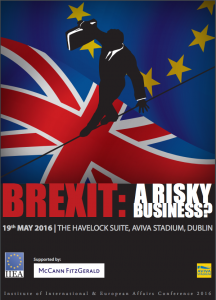 On 19 May, prior to the historic British vote on 23 June 2016, the IIEA held a timely conference in the AVIVA stadium which explored the implications of BREXIT for both the UK and Ireland.
The event was attended by a range of experts and sponsored by law firm McCann Fitzgerald, and for more information you check this link.
Brendan Halligan's contribution to the event can be heard as a podcast posted on the IIEA website, at this link