Posted on Sep 19, 2015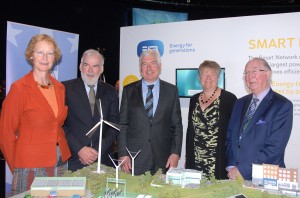 On 18 September, the IIEA and the ESB hosted a major international summit entitled "Powershift: Why Everything You Thought you Knew About Energy is Wrong", which examined the future of the energy industry and the changes that will shape it. Click here to see the photo gallery of this event.
The summit brought together leaders, industry innovators and policy makers from around the planet, from Maroš Šefčovič, Vice President for Energy Union, European Commission, to Matthew Warren, Chief Executive of the Energy Supply Association of Australia (ESSA).
The conference was introduced by Brendan Halligan, Chairman, IIEA, and Pat O'Doherty, CEO of ESB. Brendan Halligan also chaired one of the conference's panel discussions, "Visions for the Future of Energy – Disrupt, Innovate, Connect!"
Taking place at the Conference Centre in Dublin's historic Mansion House, subjects focused on transformative changes currently taking place in the energy sector due to the convergence of energy and digital technologies.
Electric-powered transport and storage, the connected home, how to attract investors to this new energy sector and how to deal with everyday customers who will need to adapt to the new systems were all discussed. Click here to see a gallery of participants at the conference and for full coverage, visit: www.IIEA.com