Posted on Oct 5, 2016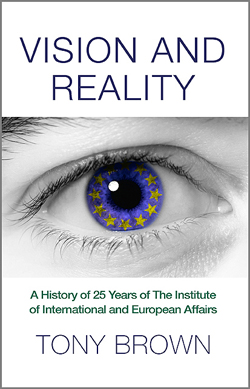 Brendan Halligan saluted a new book written by IIEA Senior Fellow Tony Brown yesterday at the Institute of International and European Affairs in Dublin. The launch of Vision and Reality – A History of 25 Years of the Institute of International and European Affairs was launched to coincide with the Annual General Meeting of the Institute, and was received with huge enthusiasm by Institute members and attendees at the event.
Halligan praised the book itself for its broad vision: that of capturing the history and development of the Institute in one comprehensive tome. Its seven chapters take us from the origins of the organisation through its actual founding, the nuts and bolts of its development and implementation, the progression of its concept of scholarship, dialogue and activism, the exploration of the many issues it has addressed, and its embracing of the new issues like Climate Change and the digital world.
He noted that "Vision and Reality" is commendable not only for its meticulous attention to detail, but its fine writing style, which allows the reader to enjoy and fully appreciate the depth and breadth of its subject.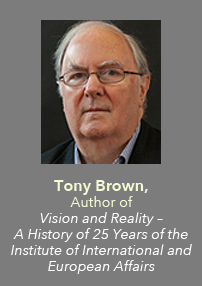 He also praised Tony Brown's phenomenal dedication and skill. The author, an original founder of the Institute, has also edited several studies produced by the IIEA, such as Lisbon – What the Reform Treaty Means and he publishes frequent papers (most recently, 'BREXIT: Remain – The New Reality?') as well as regular blog posts on the IIEA website. Vision and Reality, however, comprises years of research and the collation of hundreds of documents, from meeting minutes to personal records and more.
The book's completion involved many other aspects, such as the sourcing and captioning of over two dozen colour photographs that chart the Institute's progress, all brought together by talented designers and an editing team that worked tirelessly to finalise the book.
The result, a 220-page volume, is a more than worthy portrait of an organisation that has progressed from a vision originating with Brendan Halligan, the author and a dedicated group of founders in 1989, to the respected, cutting edge European think-tank that is has become. Founders recognised the need for a national consensus on European issues built on informed debate on the basis of objective assessment of policy options. They aimed to create an independent body capable of promoting the advancement and spread of knowledge on the process of European integration and, in particular, on the role and contribution of Ireland within The European Union. The widening of the Institute's agenda to cover global issues, such as Climate Change and the rise of China is addressed.
Vision and Reality – A History of 25 Years of The Institute of International and European Affairs is available now at the Institute and by purchase on its website. It will soon be available from Amazon and Kindle, and other outlets in Ireland and internationally.