Posted on Mar 25, 2015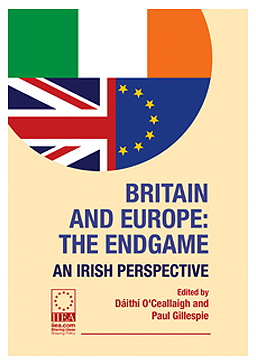 Tomorrow, just six weeks ahead of the UK general election, the IIEA will be launching a major new book entitled Britain and Europe: The Endgame – An Irish Perspective.
The study examines the future of Britain's role in the EU, focusing on the potential dangers of a UK exit from the union. Its contributors include Tom Arnold, John Bradley, Tony Brown, Brendan Halligan, Blair Horan, James Kilcourse, John McGrane and Edgar Morgenroth.
Four possible scenarios are explored, particularly within political and economic contexts and considering the implications for Ireland and the effects such a strategy might have on Northern Ireland and Irish-British relations. The book is edited by Daithí O'Ceallaigh, former Irish Ambassador to Britain, and Paul Gillespie, Irish Times columnist and former Foreign Editor.
At a launch event scheduled for Thursday 26 March, speakers will include IIEA Chairman Brendan Halligan, Paul Gillespie of the Irish Times and John McGrane, co-founder of the British Irish Chamber of Commerce. The evening will be moderated by Daithí O'Ceallaigh. Books will be available for purchase at the event.