Posted on Jul 23, 2017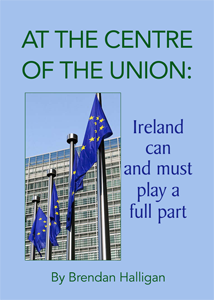 In his recent address to the MacGill Summer School, Brendan Halligan looked at Ireland's current situation in Europe in the light of BREXIT and discusses how, "there is one eminently pragmatic reason to be at the centre, and it's economic. The disruption from Brexit will be widespread and long lasting and far greater here than in any other EU state." But remaining at the centre of the EU will not only protect Ireland, but present it with a whole new gamut of possibilities.
To read/download a PDF of this document, click here or scroll down.
---
Introduction
A Union without Britain will be a challenge in its own right. Ireland playing a full part at the centre of that Union only magnifies what is already a huge challenge, the biggest since 1939 in the words of Ruairi Quinn.
In considering how we respond, I want to start with what the Union is and what is meant by the centre, in which we're being asked to play a full part.
Franco/German Project
The Union is a Franco/German project. They are building a European home together.
Other countries may join in, but must obey the rules. Joining is voluntary. You don't have to join. Membership is voluntary too. You don't have to stay. You can leave if you want to. And if you misbehave, you can be asked to go.
The European Union was famously described as 'Journey to an Unknown Destination'' by Andrew Shonfield in his Reith Lectures given in 1972. It has a history of progressively enlarging its membership, extending its activities and deepening the interdependence of its members. Progress goes forward in spurts, sometimes at speed. I suspect we are at such a moment. (more…)