Posted on May 5, 2015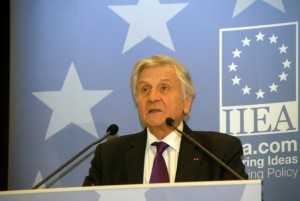 On Thursday, 30 May, former ECB President Jean Claude-Trichet visited Dublin's Royal Hospital, Kilmainham to deliver a paper entitled, "Governance of the Eurozone: Past, Present and Future" at an event hosted by the Institute for European and International Affairs at .
Attended by over a hundred invited guests, attendees included the members of the Committee of Inquiry into the Banking Crisis and the media. It was broadcast live on TV.
Chairman of the Institute, Brendan Halligan, presided and introduced President Trichet and two respondents to the address, Dr Michael Somers, Vice-Chairman, AIB, and Professor Gavin Barrett of the UCD School of Law.
Following the lecture and the responses, President Trichet answered questions from Institute members and, in separate sessions, from members of the Committee of Inquiry into the Banking Crisis, popularly known in Ireland as "The Banking Inquiry."
The Oireachtas committee consisted of its Chairman, Ciarán Lynch TD (Labour), and Pearse Doherty TD (Sinn Féin); Senator Seán D. Barrett (Independent); Senator Susan O'Keefe (Labour); John Paul Phelan TD (Fine Gael); Senator Michael D'Arcy (Fine Gael); Eoghan Murphy TD (Fine Gael); Michael McGrath TD (Fianna Fáil); Joe Higgins TD (Socialist Party); Kieran O'Donnell TD (Fine Gael) and Senator Marc MacSharry (Fianna Fáil).
President Trichet gave interviews to the media before returning to Paris.
For a photo gallery of the event, click here or on the image.